From the comments on FB, there are some obvious marketing opportunities.
Kimmie Plushie
Some found the Supreme Leader
cute in a chubby baby way. Cash in on this craze. Supreme Leader Kim Jung Un plushie. Incredibly huggable. Soft and chubby, just like the real thing!
No hard buttons or plastic. All plush construction. Safe for use and play by children.
With a prominent label at the back declaring "Made in China".
Just like the Real Thing.
Kimmie Plushie Accessories!
The Supremes!
Protect your Kimmie Doll with THE SUPREMES(tm) Personal Security Officer Team. Comes in Personal Security Team (6 dolls), Motorcade Detail (12 dolls), or Deluxe Team (20).
All Plush! All dressed in identical black suits! Your Kimmie Doll will feel so safe.
Kim Jong Un Portable toilet
When Kimmie needs to go, let him go on the Supreme Leader's Throne!
Supreme Leader did not want to use the toilets in SG because he was worried that SG would collect his crap, and analyse it to get insight on his health.
I think we can safely assume that if he is this worried, there is probably an issue with his health. I would guess, obesity would be one of the health issues? And I don't even need to get a faecal sample to analyse!
So, for those times when Kimmie won't give a crap, there is the portable toilet!
(I wonder what happens to the crap. Do they bring it back to North Korea? What happens at the airport?
"Supreme Leader, did you pack this luggage personally?"
"Why yes, I did. Personally.")
Uniqlo Printed Suit Jogging Tee and Track Pants
Want to be like the Supremes when you are jogging? But need more appropriate attire for our heat and humidity? Get the Printed Suit on a jogging tee and track pants ensemble! You look formal and ready for Secret Service/Body Guard Action, while the dry-weave material wicks away sweat leaving you cool and dry. Even in hot humid Singapore!
Jogging Bodyguards in Suits
For weddings, funerals, and graduations or really any rites of passage.
Hire our suited bodyguards to run beside your bridal car, or your loved one's hearse, or use them anyway you want (as long as it is legal, and they consent)!
Donald Trump Impeachable Doll
With removable hair piece held in place with velcro.
With a custom peach-shaped container to hold the doll and all the accessories - cheeseburger, KFC bucket, taco bowl, American Flag, and smartphone that tweets! Now YOU can impeach him!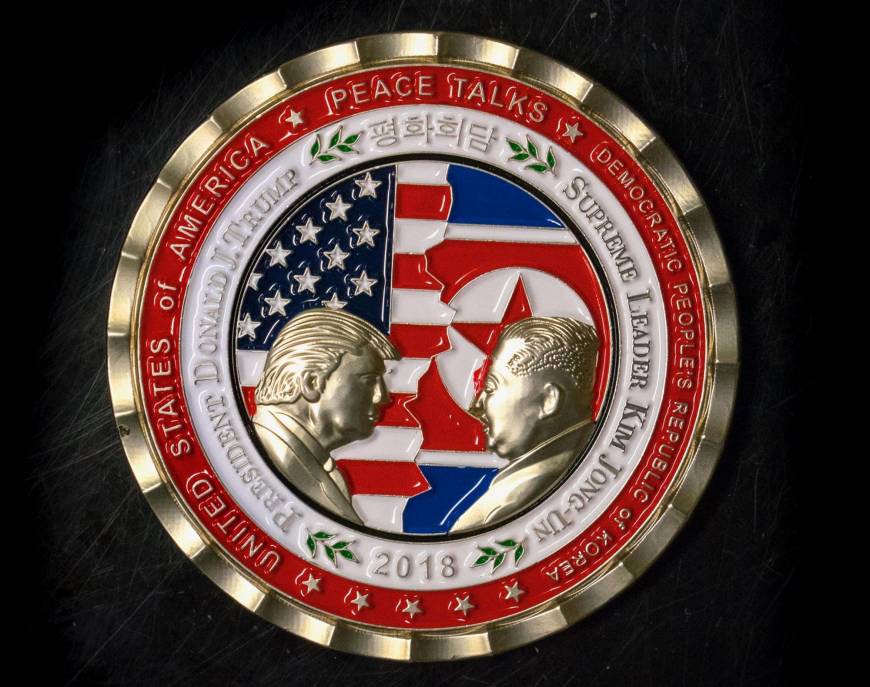 Commemorative Medallion and Coin
Available in Fine Gold (99.99) $1000
Sterling Silver $600
Gilded $119.
Or Cupro-nickel $49.90
Show the world that you were there when Trump met Kim!